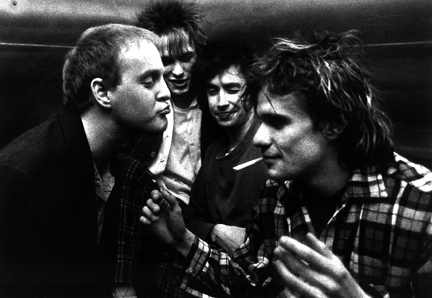 The Replacements
If The Clash were the only band that mattered, The Replacements may be the only band never to have given a shit if they mattered.
That's what makes them the greatest fucking rock band of the last quarter-century.
Growing up, The 'Mats were everything I worshipped about rock n' roll, all wrapped up in one scruffy, raw, merrily troublemaking package: They were punks who could not only write great songs, but were always too busy doing it to concern themselves with the stupid "aesthetic" of being punk.
I was already a Replacements fan by the time I joined a band during my first year of college, and was immediately thrilled to find out that my new bandmates held Paul Westerberg, Tommy Stinson and company in the same high regard. Without meaning to, I'm pretty sure we patterned ourselves after The Replacements -- at least insofar as their unspoken conviction that you didn't necessarily need to be virtuoso musicians as long as you could write and play a great song. I'd been playing drums since I was five and was still training with Gene Thaler at the time, a New Jersey transplant to South Florida whose most famous longtime pupil was Max Weinberg of the E Street Band (and eventually Conan O'Brien's house band). Yet despite a damn good pedigree, as well as the obligatory few years spent idolizing Neil Peart, I wanted nothing more during my time in the band than to slam out a 4/4 beat as loud and as hard as I could. I wanted to be so defiant that I didn't even give a goddamn about being defiant.
I wanted to be like The Replacements.
The band I drummed for did exceptionally well for as long as we kept it going. We played out often. We had a few songs hit big on local radio. We toured the East Coast and slept on the floor of anyone kind enough to put us up for a night. We drank -- constantly. We forged a bond that remains to this day and created a hell of a lot of great memories.
I wouldn't trade the experience for anything, ever.
Listening to The 'Mats now always reminds me of those days.
So let's hear from them dammit.
First up, the anthem that defined my generation long before Kurt Cobain thought to scream, "Here we are now, entertain us." The Replacements' big "fuck you" to MTV -- the anti-video for
Bastards of Young.
Next, a televised performance worthy of The Replacements. I still laugh everytime I think about watching this live as it happened back in May of 1989. The 'Mats were asked to play the International Rock Music Awards (otherwise known as "The Elvis Awards," a somewhat tepid honor that vanished into obscurity as quickly as it seemed to arrive), the ceremony for which was being broadcast live on network television. As confused as anyone as to why they were invited, Paul Westerberg came right out and asked "What the hell are we doing here?" before launching into the opening chords of
Talent Show
. Then, network censors dropped the sound out completely during the line in the song where Paul sings "We're feelin' good from the pills we took." This led Tommy Stinson to mock the awards themselves during the break in the song, saying
"ELVIS?!?"
and then laughing hysterically. Finally, in one last show of wise-ass impudence, Paul changed the lyrics at the end of the song, inserting the word "pills" wherever he could -- defying the censors.
And finally, another very simple video for a spectacular song. From 1987's
Pleased to Meet Me
album, here's
The Ledge
.
(By the way, at least one of my ex-bandmates is still making music: Our former guitarist Jay Walsh now sings and plays lead guitar in a damn good Boston band called The Douglas Fir.
You can hear their stuff here
.)