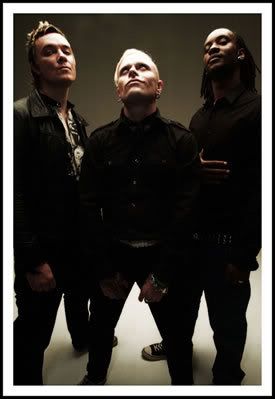 Remember when electronica was supposedly going to be the next big thing?
Although the genre certainly made its mark in television commercials, and continues to, it never really became the blow-out musical trend here in the states that many had predicted. (When you think about it, the overhyping of something as generally soulless as the electronic movement could only have coincided with the overhyping of an impending cyberpunk zeitgeist like Y2K and could only have served as a backlash to a musical trend as organic as early-90s rock.)
Despite electronica's largely unfulfilled promise, there were a few acts that gained a respectable level of much-deserved crossover success (Moby, The Crystal Method, The Chemical Brothers, Underworld). But there was one that not only made an impact, but always could've and
should've
been the dominant bridge between the powerhouse fury of punk and rock, and the DJ-driven hip-hop and dance beats of electronica.
The Prodigy.
Liam Howlett, Keith Flint, Maxim Reality and Leeroy Thornhill represented more than just the usual "Two Turntables and a Microphone"; they were a real band -- the Guns N' Roses of the techno scene. Unlike many of their counterparts, they were as bone-crushingly heavy and powerful as they were danceable. Their live show in particular was a visceral experience on par with seeing any band that boasted a phalanx of guitars and a wall of Marshall stacks.
The Prodigy was always electronica for people who didn't much like electronica.
The "band" still exists, despite DJ Liam Howlett's decision to essentially go it alone in recording the 2004 album
Always Outnumbered, Never Outgunned
. Howlett, along with Keith and Maxim are now in the studio recording a new Prodigy record, but I have a feeling that nothing will ever top the sheer mind-blowing ferocity of their breakout release -- 1997's
The Fat of the Land
.
Here's The Prodigy's second single from that album, one of my all-time favorite songs:
Breathe
.
And of course, the clip that MTV once called "The Most Controversial Video Ever Made." Director Jonas Akerlund's explicit masterpiece of first-person sickness, misogyny, wanton aggression and illegal indulgence -- all topped off with the greatest final-shot twist in music video history:
Smack My Bitch Up
.