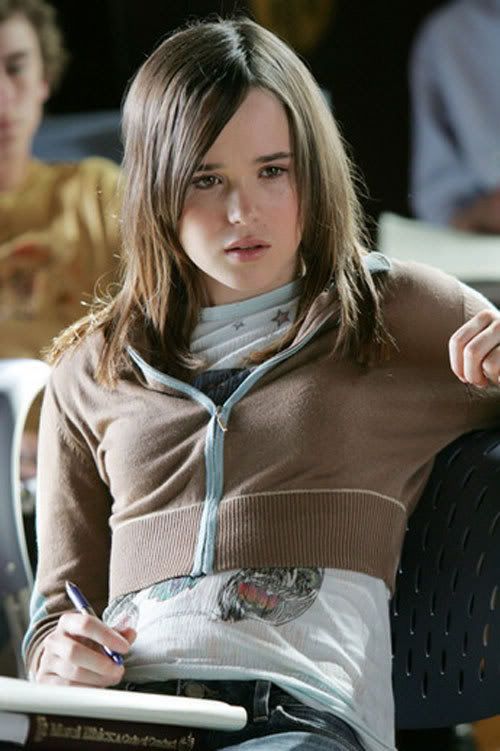 Ellen Page

There are plenty of young actresses in the world; they generally range from the merely irritating (Dakota Fanning, Amanda Bynes) to the beautiful-but-worthless (Hillary Duff) to those permanently relegated to the bathroom floor and, consequently, the virtual pages of TMZ.com (Lindsay Lohan).

It's gotten so that someone who's young and talented, who's in it for the long haul rather than the quick flame-out, tends to go relatively unnoticed.

This is why I love Ellen Page.

For the uninitiated, the 20-year-old Canadian was the screen-chewing presence behind one of the most complex and unnerving characters in recent film history. In 2005's Hard Candy, she played Hayley Stark, a seemingly innocent teenager who turns the tables on an older man whom she believes to be a sexual predator -- a man who may or may not be responsible for the kidnapping death of another young girl. Ellen's performance is nothing short of astonishing: she goes from quietly demure and submissive to fiercely, explosively violent within seconds. Given that the movie is essentially a two-person play, it's a laudable feat that a relative newcomer can carry most of the it so handily. Hard Candy is one of the most intense and disturbing movies you're likely to ever see, and Ellen Page is a large part of the reason why.



If you paid close attention, you also saw her turn up in X-Men: The Last Stand, playing Kitty Pryde.

And next month, she'll likely up the ante in her career when Juno hits theaters. Ellen plays the title character -- a razor-sharp and worldly teenage girl who winds up pregnant and makes a level-headed decision not only to have the baby but to give it to a couple who can't have children of their own. The movie's already earning raves from critics for its humor and heart, and many are convinced that it will make Ellen Page a household name.

I'm really hoping that's true.

Anything to bring a little dignity and a lot of talent back to the young actress mantle.

(Watch the trailer for Juno)