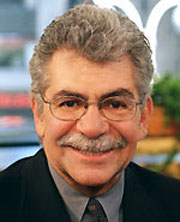 Joel Siegel, the longtime movie critic for ABC's Good Morning America, who was known both for his bounteous moustache and his simplistic, pithy and 100% blurb-ready reviews ("Pirates of the Caribbean is a swashbuckling good time; run, don't walk the plank to see it!") died last Friday after a long battle with colon cancer.
He may be gone, but his god-awful corniness -- as well as his willingness to distill entire films down to one or two ridiculous lines -- will be with us forever, or, as Joel himself might say, "We'll always have puns."
So, with that in mind, I give you ten things that Joel Siegel said just before he died:
1.
"This cancer just
kills
me!"
2.
"Just when I thought it was safe to go back into chemotherapy!"
3.
"I guess Heaven
Can't
Wait!
4.
"This is even worse than 'Death Becomes Her' -- 'cause death will definitely be coming for me!"
5.
"There'll be no "Dawn" after this "Dead!"
6.
"'The Terminal' has left me
breathless
!'"
7.
"In hell, no one can hear me scream!"
8.
"I
died
laughing!"
9.
"Kevin Smith! From hell's heart I stab at thee -- for hate's sake, I spit my last breath at thee!"
10.
"At least there won't be a sequel!"