(Part 1: Heaven's Cates/5.4.07)
(Part 2: Screen Savors/5.9.07)
Part 3: Rock & Roll Queens
It should be obvious by now that I never outgrew my adolescent passion for music; quite the opposite, the importance of having that perfect soundtrack to everyday existence has increased exponentially with age. It goes without saying then that I've always had a weakness for female musicians. There's nothing hotter, cooler or sexier than a woman behind a mic, a guitar, a piano etc. (For the record, my wife sings -- and sings very well -- which melts me every time.)
The thoroughly self-indulgent list of the women I love continues with the ones who literally rock my world.
Shirley Manson
She gorgeous, she's an exhibitionist, she's Scottish, she fronts Garbage -- a band that still stands as one of my favorites, and she's just raw sex. Did I mention that she's also an exhibitionist?
Garbage --
Why Do You Love Me?
Alicia Keyes
My God does this woman have soul. If her monumental talent doesn't sway you, check out how stunning she looks in
Smokin' Aces
.
Alicia Keyes --
If I Ain't Got You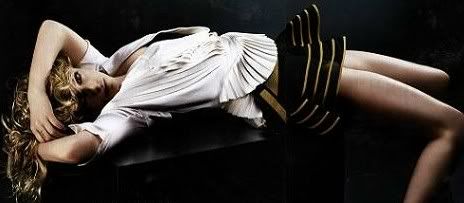 Alison Goldfrapp
The hypnotic thumping heartbeat of her music is the sound of seduction. If you can't get laid to a Goldfrapp song, give it up.
Goldfrapp --
Twist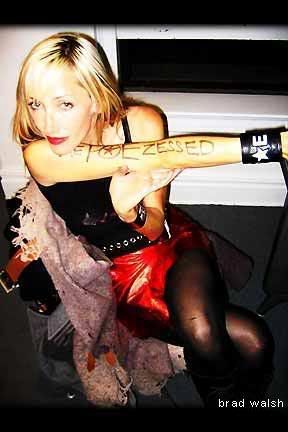 Poe
The thinking man's musical goddess, she took a lifetime of pain and trauma and turned it into one of the most underrated albums of the last decade --
Haunted
. Strength, vulnerability and a little insanity all wrapped up in one mesmerizing package.
Poe --
Amazed
(still-frame)
Sheryl Crow
Yup, got a serious thing for her. She's just damn hot.
Sheryl Crow --
If It Makes You Happy
Zia McCabe
I've had a crush on the keyboard player for the Dandy Warhols for as long as I can remember. Anyone who usually plays topless earns an immediate place in my heart.
The Dandy Warhols --
Not if You Were the Last Junkie on Earth
Neko Case
Sometimes it's all about that indescribable feeling you get when a woman plays a song that you know came right from her heart -- and sings it in a way that makes you believe it's coming from somewhere slightly south of that.
Neko Case --
Maybe Sparrow
Kelly Clarkson
Yes, I like Kelly Clarkson. Go fuck yourself.
Brandi Carlile
I don't care how hard VH1 promotes it or how many idiots first heard it on
Grey's Anatomy
, her current hit
The Story
could very well be the best single of the past five years -- by anyone, in any genre. When her voice cracks during the final chorus -- sounding every bit as if it's going to give out completely -- you feel every heartbreak she's ever had, every mistake she's ever made, the weight of a lifetime of tragedy and the power of her desperate cry for help. She's pure and simple passion, and I stand in awe of her.
Brandi Carlile --
The Story
Siouxsie Sioux
No one who grew up in the 80s and had semi-decent taste in music wasn't in love with Siouxsie. My undying devotion was cemented the night she wrapped a feather boa around my neck, pulled my face to within inches of hers and sang
Slowdive
-- a song about giving head -- to me at a concert in Miami. It took two weeks to get rid of my erection.
Siouxsie and the Banshees --
Christine
Liz Phair
There aren't words to describe how much I love this woman. Liz, if you ever read this -- please for God's sake have sex with me. My wife says it's okay. I swear, if I ever get leukemia or something, that's gonna be my request to the Make-a-Wish foundation.
Liz Phair --
Extraordinary
P!nk
The real fucking deal. More punk than most punks. I want her to fuck me, then kill me and drink my blood.
P!nk --
U + Ur Hand
Next: The Funny Girls