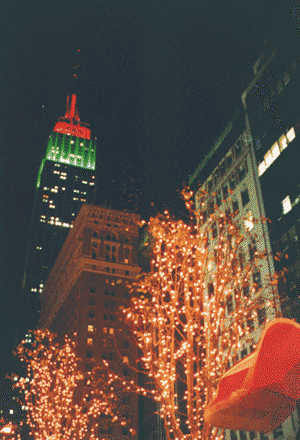 Five years ago on this night, I put my feet up, leaned back in a chair in the hotel room which the network was housing me in following the September 11th attacks, and talked on the phone to my family in South Florida. The phone was passed around and over the course of fifteen minutes or so, I gave the people I loved -- one-by-one -- my best wishes for the holiday.
Then I hung up, smiled, took a sip of scotch from a glass tumbler -- enjoying the sound of the ice against the glass -- and stared out through the cold air at the electric skyline of Manhattan.
It stands as one of my favorite Christmas memories, despite the fact that I was completely alone in an alien city.
Tonight, my wife and I celebrate the holiday in a spacious room at the stunningly beautiful hotel which she helps to manage. We've turned the lights down and are enjoying a bottle of champagne and some fresh fruit. She has to work tomorrow morning. So do I. Right now though, everything is quiet and perfect, and the view of Manhattan -- lit up in shimmering reds and greens -- is beyond compare.
If we can't be with extended family on this holiday -- this is certainly the next best thing.
Merry Christmas everyone.
Truly, peace on Earth.